Marked by tradegy
The classic hymn was written by Horatio Spafford, a man who was sadly all too familiar with death and tragedy. In 1871, Spafford suffered the tragic death of his only son to scarlet fever. Shortly thereafter, the Great Chicago Fire destroyed the entire city. A successful businessman and lawyer at the time, Spafford lost everything. While he and his wife Anna began piecing their lives back together, his friend, the acclaimed bible teacher D.L. Moody, suggested take the family take a much-needed vacation.
Taking Moody's advice, Spafford booked passage for his family on the ship S.S. Ville de Havre, but at the last minute was unable to go with his family due to business concerns left in the rubble of the Great Chicago Fire. His family—Anna and their four daughters—went ahead of him. He promised to follow them within a few weeks and they would all be reunited in England.
"Saved alone"
En route over the Atlantic, the ship collided with an iron shipping vessel and sank rapidly thereafter. All four of his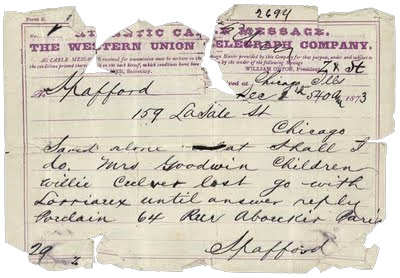 daughters drowned. His wife Anna, one of the few survivors, arrived in Europe to send her husband the now famous telegram, "Saved alone." With a grieving and broken heart, Horatio Spafford immediately departed for England to join his wife. When the ship's captain told Spafford they were passing over the scene of the collision, immense sorrow overcame him, and he retreated to the ship's cabin. Swallowed in unbearable grief, he wrote the words:
When peace, like a river, attendeth my way,
When sorrows like sea billows roll;
Whatever my lot, Thou has taught me to say,
It is well, it is well, with my soul.
And a few years later, Horatio Spafford and his wife Anna bore three more children, losing one of them—another son—yet again to scarlet fever. Imagine the heartache. Could you imagine the sorrow? This man's life was relentlessly marked with tragedy, loss and death. However, not once did he fold under his anger, sorrow or despair. Instead, against all worldly odds, he declared his hope and faith in a sovereign God—Jesus Christ.
And a few years later, by God's amazing grace, the Spafford family eventually turned their sorrows and grief into compassion and mercy. They moved to Jerusalem and engaged in philanthropic work, spreading the good news of Jesus Christ and ministering to the locals in the wake of World War I.
Our God is a God who saves!
In Christ, Our Great Redeemer
This truth—that our God is a God who saves—was embraced by Horatio Spafford in such a way that he made clear to the world that Christ alone was his heart's most valuable treasure and his greatest desire. In another verse of It Is Well With My Soul he writes:
My sin, oh the bliss of this glorious thought!
My sin, not in part but the whole,
Is nailed to His cross, and I bear it no more,
Praise the Lord, praise the Lord, O my soul!
What a testimony! Horatio Spafford understood that he was no better—nor holier—than the next guy. He believed that all people—himself included—are inherently bad in both nature and choice. He had seen the devastating effects of a fallen world. Sin… tears… disease… death. And he knew who his only hope—our only hope—was: Jesus.
Horatio Spafford placed the care of his soul in a wonderful Savior. If God were so loving and so gracious to pardon Spafford's offenses against him, then what a wonderful God he must be. Let's consider this testimony as we face the inevitable troubles and losses in our own lives.
And let us never forget that our God is a God who saves.
1 Peter 1:3-9, ESV:
Blessed be the God and Father of our Lord Jesus Christ! According to his great mercy, he has caused us to be born again to a living hope through the resurrection of Jesus Christ from the dead, to an inheritance that is imperishable, undefiled, and unfading, kept in heaven for you, who by God's power are being guarded through faith for a salvation ready to be revealed in the last time. In this you rejoice, though now for a little while, if necessary, you have been grieved by various trials, so that the tested genuineness of your faith—more precious than gold that perishes though it is tested by fire—may be found to result in praise and glory and honor at the revelation of Jesus Christ. Though you have not seen him, you love him. Though you do not now see him, you believe in him and rejoice with joy that is inexpressible and filled with glory, obtaining the outcome of your faith, the salvation of your souls.