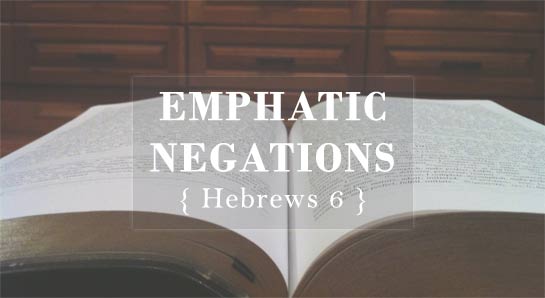 If you are joining us for the first time, please be sure to read the previous posts in this series:
---
After this wonderful encounter with the Lord and Abraham has entered into a true saving relationship with the Lord, another ten years pass, but he still does not have an heir through Sarai. At that point, when he is now a born again believer, Sarai becomes quite impatient and urges him to take her Egyptian handmaid, Hagar, and have a son by her, who would then, according to the legal customs of that day and time, become Sarai's child and Abraham's male heir. At this point, Abraham was a born again believer in the Lord, but due to the pressure he felt from Sarai, his wife, he once again compromised and embraced the cultural practice of his day, versus waiting on the Lord to provide him a male heir through Sarai. Instead, he decided to make it happen in his own, corrupt, carnal, but culturally accepted way of his time. In the Law Code of Hammurabi, #'s 145-146, such a provision was made for a wife to provide her husband her maidservant whereby a child would be born:
"If a man take a wife, and she bear him no children, and he intend to take another wife: if he take this second wife, and bring her into the house, this second wife shall not be allowed equality with his wife. If a man take a wife and she give this man a maid-servant as wife and she bear him children, and then this maid assume equality with the wife: because she has borne him children her master shall not sell her for money, but he may keep her as a slave, reckoning her among the maid-servants"
Therefore, even though this was acceptable in the culture of the ANE at that time, it was not God's directive for Abraham, who was now a born again believer, and because of this serious compromise of impatience, serious consequences occurred that are still with us today (i.e., the birth of Ishmael, who for the Muslims is the progenitor of their belief system).
After fifteen years have passed, the Lord tells Abraham that Sarai is going to conceive, but at 100 years of age, he cannot believe that can happen, and tells the Lord to please let Ishmael be his heir, but God says no, He is going to do it His way, the way beyond man's ability, planning, and scheming:
15 Then God said to Abraham, "As for Sarai your wife, you shall not call her name Sarai, but Sarah shall be her name. 16 "And I will bless her, and indeed I will give you a son by her. Then I will bless her, and she shall be a mother of nations; kings of peoples shall come from her." 17 Then Abraham fell on his face and laughed, and said in his heart, "Will a child be born to a man one hundred years old? And will Sarah, who is ninety years old, bear a child?" 18 And Abraham said to God, "Oh that Ishmael might live before Thee!" 19 But God said, "No, but Sarah your wife shall bear you a son, and you shall call his name Isaac; and I will establish My covenant with him for an everlasting covenant for his descendants after him. 20 "And as for Ishmael, I have heard you; behold, I will bless him, and will make him fruitful, and will multiply him exceedingly. He shall become the father of twelve princes, and I will make him a great nation. 21 "But My covenant I will establish with Isaac, whom Sarah will bear to you at this season next year." 22 And when He finished talking with him, God went up from Abraham.
(Genesis 17:15-22)
Thus, the Lord had very different plans from Abraham's limited perspective, even as a born again believer in the Lord, and God was going to carry his plan forward, even in the face of Abraham's doubts and carnal, disbelieving, and disobedient compromises. However, one very interesting thing to note is that even in the midst of Abraham's carnal and disbelieving failures, God was always faithful, even to the blessing of Ishmael, his son, who was indeed, as Paul says, the product of Abraham's carnal, fleshly actions:
21 Tell me, you who want to be under law, do you not listen to the law? 22 For it is written that Abraham had two sons, one by the bondwoman and one by the free woman. 23 But the son by the bondwoman was born according to the flesh, and the son by the free woman through the promise. 24 This is allegorically speaking: for these women are two covenants, one proceeding from Mount Sinai bearing children who are to be slaves; she is Hagar. 25 Now this Hagar is Mount Sinai in Arabia, and corresponds to the present Jerusalem, for she is in slavery with her children. 26 But the Jerusalem above is free; she is our mother. 27 For it is written, "Rejoice, barren woman who does not bear; Break forth and shout, you who are not in labor; For more are the children of the desolate Than of the one who has a husband." 28 And you brethren, like Isaac, are children of promise. 29 But as at that time he who was born according to the flesh persecuted him who was born according to the Spirit, so it is now also. 30 But what does the Scripture say? "Cast out the bondwoman and her son, For the son of the bondwoman shall not be an heir with the son of the free woman." 31 So then, brethren, we are not children of a bondwoman, but of the free woman.
(Galatians 4:21-31)
The next compromising action of Abraham was a sin that he committed before he was born again, and that was to pass Sarah off has his sister, and this time it was to Abimelech, king of Gerar. However, the big difference here was that the Lord had visited Abraham with three angels who told Abrham and Sarah that within a year Sarah would give birth to a son. Thus, when Abraham went to Gerar, Sarah was very likely pregnant at the time:
1 Now Abraham journeyed from there toward the land of the Negev, and settled between Kadesh and Shur; then he sojourned in Gerar. 2 And Abraham said of Sarah his wife, "She is my sister." So Abimelech king of Gerar sent and took Sarah. 3 But God came to Abimelech in a dream of the night, and said to him, "Behold, you are a dead man because of the woman whom you have taken, for she is married." 4 Now Abimelech had not come near her; and he said, "Lord, wilt Thou slay a nation, even though blameless? 5 "Did he not himself say to me, 'She is my sister '? And she herself said, 'He is my brother.' In the integrity of my heart and the innocence of my hands I have done this." 6 Then God said to him in the dream, "Yes, I know that in the integrity of your heart you have done this, and I also kept you from sinning against Me; therefore I did not let you touch her. 7 "Now therefore, restore the man's wife, for he is a prophet, and he will pray for you, and you will live. But if you do not restore her, know that you shall surely die, you and all who are yours." 8 So Abimelech arose early in the morning and called all his servants and told all these things in their hearing; and the men were greatly frightened. 9 Then Abimelech called Abraham and said to him, "What have you done to us? And how have I sinned against you, that you have brought on me and on my kingdom a great sin? You have done to me things that ought not to be done." 10 And Abimelech said to Abraham, "What have you encountered, that you have done this thing?" 11And Abraham said, "Because I thought, surely there is no fear of God in this place; and they will kill me because of my wife. 12 "Besides, she actually is my sister, the daughter of my father, but not the daughter of my mother, and she became my wife; 13 and it came about, when God caused me to wander from my father's house, that I said to her, 'This is the kindness which you will show to me: everywhere we go, say of me, "He is my brother."'" 14 Abimelech then took sheep and oxen and male and female servants, and gave them to Abraham, and restored his wife Sarah to him. 15 And Abimelech said, "Behold, my land is before you; settle wherever you please." 16 And to Sarah he said, "Behold, I have given your brother a thousand pieces of silver; behold, it is your vindication before all who are with you, and before all men you are cleared." 17 And Abraham prayed to God; and God healed Abimelech and his wife and his maids, so that they bore children. 18 For the LORD had closed fast all the wombs of the household of Abimelech because of Sarah, Abraham's wife.
(Genesis 20:1-18)
Once again, even in the face of Abraham's fearful, disbelieving, and carnal compromise, God sovereignly intervened and protected Abraham, Sarah, and his unborn child from a possible disaster. But it is vitally important to see that Abraham was a man of great weakness, even though he was indeed a born again believer from Genesis 15:6 forward. However, from this point forward, there is an intense breaking that takes place in Abraham, so that this fearful, disbelieving, and carnally motivated, born again believer begins to become a man of God who is committed to trusting God to the death, even the death of his promised heir, Isaac, and quite frankly, this work of sanctification in Abraham is the very same work of sanctification that God works in all of his children through His loving "discipline" in order that "we may share His holiness" (Hebrews 12:10).
We will discuss this transition in the next post. Stay tuned!