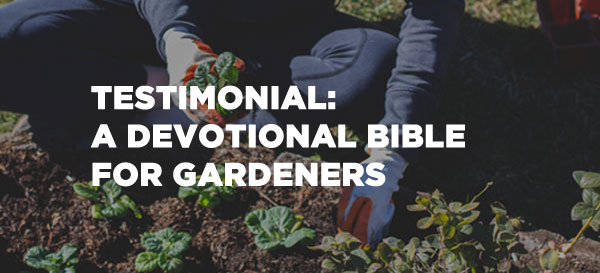 Shelley Cramm's extraordinary journey as a writer began when she read Jesus' words, "I am the vine, and my Father is the gardener" (John 15:1 NIV).  Being a novice gardener herself, God providentially sparked in her a desire to begin digging for Biblical themes that related to gardening—cultivating, sowing, pruning, and reaping—as well as the intimate horticultural details of the plants mentioned in the Bible. Shelley soon discovered how much the Christian walk of faith mirrors the practical life of a gardener. Her years of prayer and diligent study, using Blue Letter Bible, led to the publication of the 52-week devotional, NIV God's Word for Gardeners Bible, available at GardenInDelight.com. Six of her daily devotionalsare also available on Blue Letter Bible.
While visiting our office and sharing her testimony, Shelley told us this was a work of grace…
"
A nobody like myself could 

only

 produce such a work by God's design
."
During our visit, Shelley explained how gardening with the right tools makes all the difference. Likewise, the BLB lexicon and the word and verse search tools were essential in correlating the metaphors and allegories for her devotional illustrations. And behind the scenes, God provided dozens of prayer partners who nurtured her work like fresh rain.
We can only stand in awe at God's divine intervention in the lives of His people. He planted the seed, and she was eager to grow in her faith.
"Still other seed fell on good soil, where it produced a crop—
a hundred, sixty or thirty times what was sown."
Matthew 13:8
NIV
Shelley's hope now is for this devotional Bible to be available in gardening centers, nurseries and garden clubs to awaken a delight for God's Word among gardeners. We are humbled and honored that God allowed BLB to be a part of this amazing endeavor. Only He knows how many countless thousands of people will deepen their faith through reading this Bible. May the harvest increase a hundred fold! To God be the glory.
If you have been blessed by the resources and study tools Blue Letter Bible offers, we humbly ask you to prayerfully consider a gift of support. Thank you for your consideration.