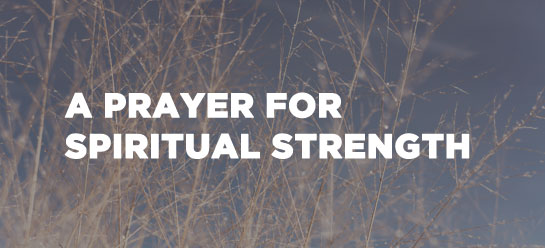 "For this reason I bow my knees before the Father, from whom every family in heaven and on earth that is named, that according to the riches of his glory he may grant you to be strengthened with power through his Spirit in your inner being, so that Christ may dwell in your hearts through faith—that you, being rooted and grounded in love, may have strength to comprehend with all the saints what is the breadth and length and height and depth, and to know the love of Christ that surpasses knowledge, that you may be filled with all the fullness of God. Now to him who is able to do far more abundantly than all that we ask or think, according to the power at work within us, to him be glory in the church and in Christ Jesus throughout all generations, forever and ever. Amen."
(Ephesians 3:14-21)
In the middle of Paul's epistle to the Ephesian church, we find this special prayer.  Remember, Paul helped plant the church in Ephesus, so there is no doubt he had a certain level of brotherly love for them. Here, in the middle of his letter, he expresses a desire to see his dear friends gain spiritually strength. How does he encourage them toward this? Not by commands or exhortations, but by prayer.
Paul prays for their spiritual strength
If you're anything like me, you understand the need for a prayer like that. You're probably less accustomed to feeling spiritually strong and more accustomed to feeling spiritually weak. If so, Paul's prayer might be a great place to start for you. By studying it, we can learn how to pray for spiritual strength.
Notice that Paul does not pray for outside circumstances to change. That is not his goal in this prayer. He wants his readers to be spiritually strong; so instead of praying for their outside circumstances to change, Paul's focus is on an inward work of God:
verse 16: He prays that God would "strengthened [them] with power in [their] inner being"
verse 19: He prays that they would "be filled with all the fullness of God"
verse 20: He talks about "God's power at work within us"
What you and I need when we are feeling spiritually weak is more than a new set of circumstances; we need an inward spiritual power and strength.
The Holy Spirit's role
Here's how God strengthens our inner being:
Through the Holy Spirit. It is not by our own mustering, but by His. God the Holy Spirit is the one who supernaturally works within to provide that spiritual strength (16). He gives us new desires, helps us walk in obedience, and conforms us into the image of Christ. If we want spiritual strength, then we are dependent on the supernatural work of God, not on the changing of our circumstances.
And here's how the Spirit strengthens us: by deepening our knowledge of the love of Christ.
How do you normally measure your spiritual strength? By your feelings? Your performance? Your relationships?
How does God actually strengthen us? It's not about having an emotional experience; it's much deeper and greater than that. If you are longing for spiritual strength, then you need a deeper comprehension.
A deeper comprehension of the gospel
So a question we should be asking ourselves is this: Is there a deepening comprehension of Christ's love? This is what we should pray for when we are feeling spiritually weak. Paul says that strength comes from "being rooted and grounded in love." The love of Jesus—His life, His death, His burial, His resurrection—is what we need to be rooted in. To be "rooted and grounded in love" is to have a deep understanding of all that God has done for us through Christ.
Now, is Paul saying anything new here? The church in Ephesus should already know this stuff, right? I mean, Paul himself planted the church, so surely he should know that they already know all this gospel stuff, right? But Paul is not merely praying that they comprehend the gospel; he is praying for a deepening of their comprehension. He wants them to know not just the components of the gospel but the massiveness of it—how high, how long, how wide, how deep it is. He wants them to understand that this good news "surpasses knowledge."
We should pray for this too. That's what we need when we are feeling spiritually weak. We need to be rooted in the gospel and grounded in love. We need a deeper comprehension of the good news. So that's what we pray for.
Prayer: Lord, help me to see more of your power. I want to see more of what you have done and what you have accomplished through Jesus Christ. Strengthen me with the wisdom of Your word, the knowledge of your sovereign work in the world, and a deeper comprehension of your love toward sinners like me. Amen.