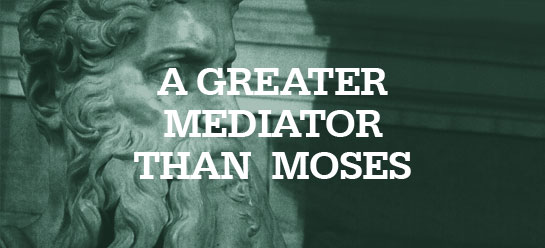 This article is part 4 in a series titled Jesus, the Truer and Greater Moses, in which we look at how the life and ministry of Moses is but a shadow of Jesus Christ. You can read part 1, part 2, and part 3.
Moses not only spoke only behalf of God to His people, he also spoke on behalf of the people to their God. He was a mediator.
Essentially, a mediator is someone who stands in the gap between two opposing parties. Since sin caused a gulf of separation between God and His people, there had to be a God-ordained mediator who would "stand in the gap" between God and man. For the Israelites, these big shoes were filled by the prophet Moses. And in this aspect of his ministry, the prophet Moses became the mediator Moses.
Moses the mediator
We know that Moses had a special and unique relationship with the Lord. Exodus 33:11 tells us that Yahweh "used to speak to Moses face to face, as a man speaks to his friend." Of all the Hebrews, no one had this type of relationship with the Lord Most High. And what did Moses do with this special friendship that he had with the Great I AM? Did he hoard the benefits of this friendship for himself to enjoy? Not at all. With this direct relational line that he had with the Creator, Moses interceded on behalf of God's people. In verse 13, Moses speaks the following words to his God:
Now therefore, if I have found favor in your sight, please show me now your ways, that I may know you in order to find favor in your sight. Consider too that this nation is your people.
Basically, as someone who received the grace of God's favor, Moses then asked God to consider showing a measure of grace to His people.  Moses, the mediator, stood in the gap.
Jesus is the truer and greater mediator
While Moses served as a type of mediator, the Bible tells us there is only one true mediator—a mediator who can perfectly close the gap between God and men:
For there is one God, and there is one mediator between God and men, the man Christ Jesus, who gave himself as a ransom for all, which is the testimony given at the proper time.
(1 Timothy 2:5-6 )
Only Jesus, the God-man, could serve as this perfect mediator.
Have you ever been in a situation where a mediator was needed? When I was pretty young, my little sister and I did not get along. It was classic sibling rivalry. And as sibling rivalries typically go, we were always trying to get one other into trouble. "Mom!!" was a frequent cry for us both. And whenever our mom answered this call, she would walk over to our relational realm of chaos and ask this question: "What happened?" In the moment of sibling opposition, she stood in the gap, serving as a mediator. She wanted good for us both, and so she interceded for us. Her goal was to get to the root of the problem and find a solution that would bring us to repentance and reconciliation.
Though it is just a tiny picture of the type of mediating role that Jesus fulfills, my point is this: a good mediator seeks your good and makes your cause their cause. And that's exactly what Jesus does for us. Sin had broken our relationship with the Creator, placing our natural depravity in opposition to God's perfect holiness. So we needed a mediator who would stand in the gap, so to speak—someone to seek our good and make our cause his cause. That mediator is Jesus. He mediated between God and men through the ransom of His blood (1 Tim. 2:5-6).
A good mediator will also pray for others. Because your cause is their cause, they will pray, making pleas to God on your behalf. Moses interceded in prayer for God's people in the tent of meeting (Exo. 33). Jesus mediated for His people in the Garden of Gethsemane (Mat. 26). In fact, He is mediating right now at the right hand of the Father (Rom. 8:34).
Jesus fills the gap both ways—the gap from God to us and the gap from us to God. Here's what the author of Hebrews says:
Long ago…God spoke to our fathers by the prophets, but in these last days he has spoken to us by his Son, whom he appointed the heir of all things, through whom also he created the world. He is the radiance of the glory of God and the exact imprint of his nature, and he upholds the universe by the word of his power. After making purification for sins, he sat down at the right hand of the Majesty on high.
(Hebrews 1:1-3)
And that's where He is right now: at the right hand of God interceding in prayer on our behalf.
Jesus is "the radiance of the glory of God." He is the "exact imprint" of God's nature. He is not just another mediator, like Moses. He is greater than Moses. Jesus is the mediator who is the very revelation of God. He is the divine Word who was with God, and is God (John 1:1). Moses saw God face to face. Jesus is the one through whom the rest of us can now see God face to face.
Next post: Jesus, a Greater Deliverer than Moses