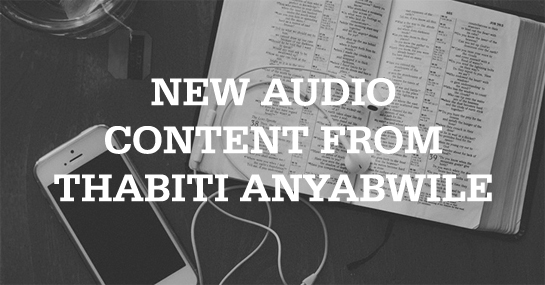 The Blue Letter Bible audio commentaries get around 20,000 listens per day. The reason we offer this great listening tool is that BLB users are constantly looking for more ways to study the Bible on the go. We are encouraged by that! And so, the audio commentaries are just one way we hope to help.
This is why we are excited to introduce Blue Letter Bible's newest teacher, Pastor Thabiti Anyabwile. We have recently added 270 of his audio messages delivered at First Baptist Church of Grand Cayman and know that they will be an incredible blessing to you.
About Thabiti Anyabwile
Pastor Thabiti Anyabwile previously served at Capitol Hill Baptist Church in Washington DC, and in 2006 became senior pastor at First Baptist Church of Grand Cayman. He recently returned to Capitol Hill Baptist Church earlier this year and now serves as assistant pastor for church planting.
Pastor Thabiti is a council member with The Gospel Coalition, a lead writer for 9Marks Ministries, and regularly blogs at Pure Church. He is also co-founder of The Front Porch—a website that hosts conversations about biblical faithfulness in African-American churches and beyond. He has also authored numerous books, including: Captivated, Finding Faithful Elders and Deacons, The Decline of African-American Theology, The Gospel for Muslims, and more.
Thabiti's sermons on BLB
Pastor Thabiti's BLB audio collection includes several expositional series, as well as topical studies such as: Teach Your Children Wisdom, Is Jesus Enough?, and Spiritual Fellowship in the Local Church.
Pastor Thabiti's heart for feeding and shepherding God's people is most apparent in his direct, yet compassionate style of teaching. We invite you to listen to his message entitled, "When the Pain Won't Stop."This excellent study from Job will encourage anyone who is experiencing suffering.