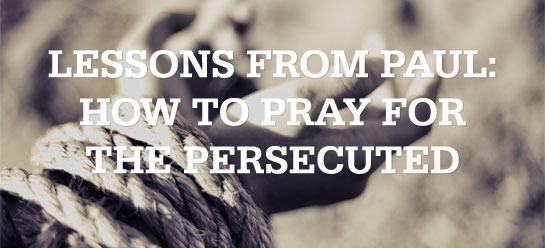 When members of the body of Christ suffer, the whole body suffers together (1 Cor 12:26). Even if we are geographically removed from those being persecuted, we can still draw near to them spiritually:
"Remember the prisoners, as though in prison with them, and those who are ill-treated, since you yourselves also are in the body"
(Hebrews 13:3).
The apostle Paul himself was well acquainted with suffering and persecution. In fact, many of his pastoral letters were written while he was behind prison bars. Since Paul was a man acquainted with grief and persecution, we can learn how to pray for the persecuted by looking at his life, ministry, and pastoral letters. Here are 7 ways we can pray for our persecuted brothers and sisters, taken from the ministry of Paul:
1. Pray that they would see the grace of Christ as all-sufficient, magnifying God's power in their weakness.
"'My grace is sufficient for you, for my power is made perfect in weakness.' Therefore I will boast all the more gladly of my weaknesses, so that the power of Christ may rest upon me."
(2 Corinthians 12:9)
2. Pray that they would treasure Jesus more than life itself.
"For to me to live is Christ, and to die is gain."
(Philippians 1:21)
"But I do not account my life of any value nor as precious to myself, if only I may finish my course and the ministry that I received from the Lord Jesus"
(Acts 20:24)
3. Pray that their unshakable joy in Christ would be a witness to their persecutors.
"About midnight Paul and Silas were praying and singing hymns to God, and the prisoners were listening to them"
(Acts 16:25)
"Only let your manner of life be worthy of the gospel of Christ, so that whether I come and see you or am absent, I may hear of you that you are standing firm in one spirit, with one mind striving side by side for the faith of the gospel, 28 and not frightened in anything by your opponents. This is a clear sign to them of their destruction, but of your salvation, and that from God."
(Philippians 1:27-28)
4. Pray that their future glory would overshadow their present afflictions.
"For I consider that the sufferings of this present time are not worth comparing with the glory that is to be revealed to us."
(Romans 8:18)
5. Pray that they would trust in God's wisdom, strength, and deliverance—not their own.
"Our hope for you is unshaken, for we know that as you share in our sufferings, you will also share in our comfort. For we do not want you to be unaware, brothers, of the affliction we experienced in Asia. For we were so utterly burdened beyond our strength that we despaired of life itself. Indeed, we felt that we had received the sentence of death. But that was to make us rely not on ourselves but on God who raises the dead."
(2 Corinthians 1:7-9)
6. Pray that God would give them the right words to say as fearless ambassadors for Christ.
"and also for me, that words may be given to me in opening my mouth boldly to proclaim the mystery of the gospel, for which I am an ambassador in chains, that I may declare it boldly, as I ought to speak."
(Ephesians 6:19-20)
"Continue steadfastly in prayer, being watchful in it with thanksgiving. At the same time, pray also for us, that God may open to us a door for the word, to declare the mystery of Christ, on account of which I am in prison– that I may make it clear, which is how I ought to speak."
(Colossians 4:2-4)
7. Pray that God would protect and deliver them to safety, according to His good and perfect will.
"I appeal to you, brothers, by our Lord Jesus Christ and by the love of the Spirit, to strive together with me in your prayers to God on my behalf, that I may be delivered from the unbelievers in Judea, and that my service for Jerusalem may be acceptable to the saints"
(Romans 15:30-31)
"At the same time, prepare a guest room for me, for I am hoping that through your prayers I will be graciously given to you."
(Philemon 1:22)