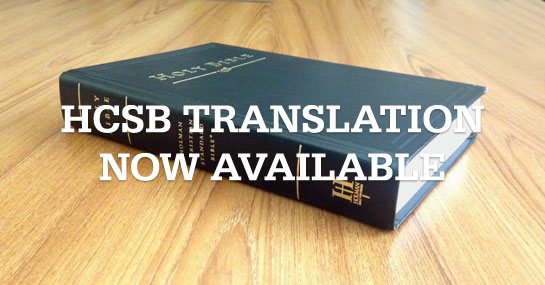 The Holman Christian Standard Bible (HCSB) is now available for free on Blue Letter Bible's website and iPhone/iPad mobile app!
The HCSB is a trusted, original translation of God's Word. A team of more than 100 scholars from 17 denominations pursued two ideals with every translation decision: each word must be faithful to the original languages of the Bible, and each word must reflect clear, contemporary English.
The HCSB uses a philosophy of Bible translation called optimal equivalence. In the many places throughout Scripture where a word-for-word rendering is clearly understandable, a literal translation is used. In places where a word-for-word rendering might obscure the meaning for a modern audience, then a more dynamic translation is given. In all cases, the intent is to convey the original meaning of God's Holy Word as faithfully and as clearly as possible.
In the HCSB, you will find:
Fresh renderings of familiar, well-known verses (e.g., John 3:16)
Clarity in understanding biblical figures of speech (e.g., Amos 4:6)
Bold font for Old Testament references in the New Testament (e.g., Matthew 3:3)
For more information about the HCSB version, visit hcsb.org. We are very thankful for the generosity of Holman Bible Publishers, an imprint of B&H Publishing Group, who have offered Blue Letter Bible the free use of HCSB!
Read HCSB on the BLB iApp
We also want to mention that HCSB is now a free default option on the iApp for your iPhone or iPad!
I have the BLB iApp—how do I get HCSB?
If your apps don't automatically update, go to the App Store and click "Updates." This will indicate which apps you can manually update and simply select the BLB iApp.
I would like to get the free BLB iApp—how do I get it?
Click for the BLB iApp for iPad or the BLB iApp for iPhone.