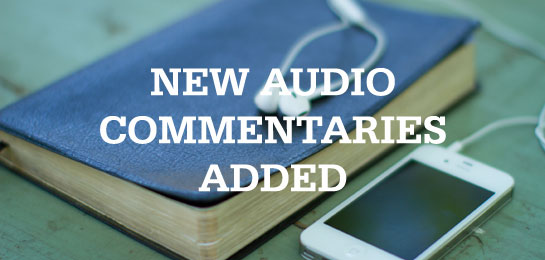 The latest additions to Blue Letter Bible include a number of audio resources from Margaret Ashmore, Kevin Otsuji, and Don Smith:
Margaret Ashmore – Audio Messages on Matthew 5 & Psalm 1
Newly added to our women's resources are Margaret Ashmore's messages on the Beatitudes entitled "Pursuing Jesus," and "The Two Paths" based on Psalm 1. She draws from many years of personal study and life's difficult lessons. Her vivacious candor stirs the heart, as she brings the truth of God's Word front and center.
Pastor Kevin Otsuji's new teaching series on the Book of Romans is now available on Blue Letter Bible. Throughout this 77 message series, Otsuji unpacks "the power of the gospel" (Romans 1:16). He focuses on the letter's essential doctrines, pointing us to the greatness of God's character and His saving grace through His Son, Jesus Christ.
In "The Parables of Christ," Pastor Don Smith exposits gospel passages with a blend of sound doctrine and practical application. Learn how the parables demonstrate God's power, reveal His sovereign purposes, and express His righteous judgment. See how Christ's instructions to His people over 2000 years ago are intrinsically relevant for His followers today.
To listen to these audio resources, go to Blue Letter Bible, click on "Study" in the menu, and select "Audio & Video Commentaries."
You can also access commentary-related resources when viewing any Bible verse. While reading in verse format, just click on "TOOLS" and select the "Commentaries" tab.