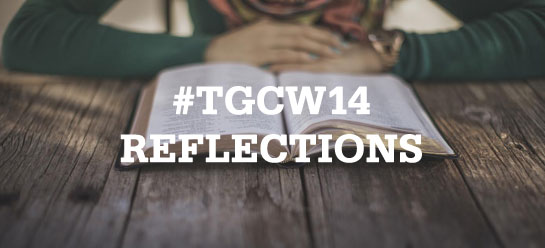 I venture to say that most of us have either participated in a Vacation Bible School, or we are at least familiar with this popular and exciting summertime event. These Bible-based camps generally include people we know, as well as some new faces outside the scope of our neighborhoods and church body. I recently traveled to central Florida with a Blue Letter Bible co-worker and five other ministry wives from here in southern California. We made this trek across the country and were graciously welcomed among 4000 other ladies who attended The Gospel Coalition National Women's Conference. This utopian-like experience, from my Christian perspective, felt like an adult version of VBS—in a delightful way!
The conference theme, "God's Word, Our Story," was based on the Book of Nehemiah and was taught by an amazing line-up of well-known pastors, teachers, and authors. This included the likes of Don Carson, Tim and Kathy Keller, John and Noël Piper, and Kathleen Nielson, just to name a few. Chapter by chapter they recounted the struggles of God's people and how they trusted in God's Word at a critical time in Jerusalem's history. This story from several millennia ago is no different from our story today. It is a telling account of victory and failure, of needed reformation and revival. And as Don Carson aptly pointed out, this pattern will continue with God's people until the triumphant return of Jesus Christ to establish His Kingdom.
Throughout the conference we were blessed in corporate worship, which was led by the modern hymn writers, Keith & Kristyn Getty, and their gifted team of musicians. A catalog of workshops, panel discussions, and focus groups was offered to us that covered many relevant topics that the Church deals with today. And the Exhibitors' Hall collectively contained so many amazing Christian books and materials that it was difficult for me to stay out of it! Overall, this was a weekend trip that I will not soon forget.
A Few Personal Gleanings
The fear of the LORD is something to long for, to pray for, and to be treasured.
"O Lord, let your ear be attentive to…the prayer of your servants who delight to fear your name, and give success to your servant today, and grant him mercy…." (Nehemiah 1:11)
The subject of fear is addressed five separate times in this book. Nehemiah demonstrates that the fear of the LORD is not just something we should contemplate, but it's something that should motivate us. The fear of the LORD is what motivated him to go to Jerusalem, and it personally motivated Nehemiah to sacrifice his time and resources for God's people. If we think we can live without the fear of the LORD, we don't have a right view of Christianity. We can study the Bible and know all the answers to biblical questions, but without the fear of the LORD we can get Christianity all wrong. Nehemiah sought the approval of God and not men. In spite of the scathing threats from his enemies, Nehemiah was determined to continue the work that God had called him to do. In his prayer, "O God strengthen my hands," from Nehemiah 6:9, he appeals to the LORD whom he reveres, the only One who has the power to help in his time of need.
Acknowledging God's righteousness and our wickedness is crucial to our Christian walks.
"Yet you have been righteous in all that has come upon us, for you have dealt faithfully and we have acted wickedly" (Nehemiah 9:33).
This little slice of history recorded in Nehemiah displays the power of God, the love of God, and the covenant-keeping faithfulness of our God. Repeatedly the mercies of God are graciously extended to a rebellious and disobedient people. Although God's chosen people had resolved to do better a thousand times, they continued to fall and beg for His mercy. And are we any different? Haven't we been recipients of this same mercy and grace thousands of times?
The Bible Is All About God
We were encouraged at this conference to highly esteem and faithfully study the Scriptures; to share the gospel of Jesus Christ; and to love and serve the Church body for the glory of God. When we open the Word of God it should always be about Him—not us. But how often have we selfishly opened the pages of sacred Scripture as one might break open a fortune cookie, hoping to find a favorable quip to brighten our day? The Bible is the written revelation of God to His fallen people. It contains the words of eternal life from the One who gives us our every breath. Knowing our Creator and loving Him more intimately should be the impetus for studying the Bible. I left this conference with a sheer excitement about God's Word and the joyous reminder that I've been given the privilege of serving God and His people.
While I desperately tried to take notes at the conference, I naturally only captured a small portion of the riches that were unearthed. I'm looking forward to listening to these audio messages again and again, when they become available at The Gospel Coalition website. I would encourage anyone who's interested in being treated to a soul-enriching, adult version of VBS to do the same.
This page will be updated with the proper links once the conference messages are made available.