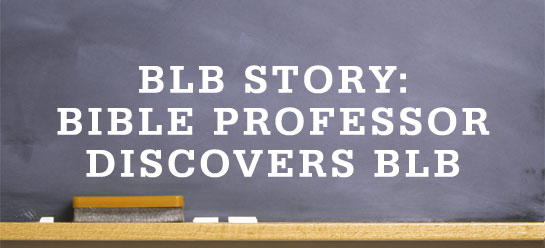 We want to introduce you to one of our unique Blue Letter Bible users, Dr. John Andrewartha, who will be turning 80 this year! He's been a faithful minister since 1953 and has taught at a Christian University in San Antonio since 1985. Dr. Andrewartha has only recently discovered the Blue Letter Bible website and our free study tools.
He resolutely informed us:
"If Blue Letter Bible and its powerful in-depth study tools had been available to me while I was prepping for my dissertation, it would have shaved a year off the process!"
The Blue Letter Bible team was thrilled to hear about this octogenarian who is so enthusiastic about our internet-based ministry. His testimony certainly dispels the myth about computer technology being only "youth friendly." Professor Andrewartha now informs students about Blue Letter Bible in his course studies. Since their campus has no library, Blue Letter Bible is able to supply sound biblical resources on the grounds of this Christian university.
This is an exciting time for Blue Letter Bible. We have new content that we want to make available to all of our users.
We always appreciate your prayers, and if you'd like to consider giving toward one of our projects, please visit us here.