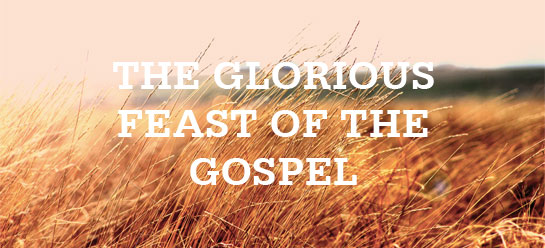 We are excited about the digital edition of The Glorious Feast of the Gospel, a series of sermons on Isaiah 25:6-9, by Richard Sibbes. Originally published in 1650, this collection reads comfortably for both devotional and study purposes. The writer petitions all believers, in their need of encouragement, to a renewed communion with God. Sibbes herein awakens the senses of the reader to the rich truths and promises presented in Jesus Christ.
Excerpted from the final sermon, he writes:
We see in nature in the winter, which is a dull time to the spring and harvest…there is a great promotion of harvest in winter, it is not a mere distance of time. So, between the promise and heaven itself, it is not a mere waiting time and there is an end. But it is a time which is taken up by the Spirit of God in preparing the heart, in subduing all base lusts, and in taking us off from ourselves and whatsoever is contrary to heaven. The time is filled up with a great deal of that which fits us for glory in heaven.
Written centuries ago but pertinent for today, this book will ignite a passionate love for Christ our gracious Savior, who prepares us for and provides us with The Glorious Feast.
The BLB Difference
We highly value the spiritual content of writings from the saints who have gone before us, and it is a privilege to be able to offer enhanced digital versions to our users. Converting an original book into digital format requires extensive work, including scanning the original book, editing the scanned pages, and capturing characters. We then thoroughly proofread and carefully edit the document to improve the readibility of ancient publications. Our digital books may receive the following features:
Replace ancient character renderings like: 'gloriovs to glorious' and 'gofpel' to 'gospel'
Modernize ancient spellings like: 'Sonne' to 'Son', 'sinne' to 'sin', and 'bloud' to 'blood'
Insert the author's marginal notes into the text as subheadings
Convert Roman numerals to modern numerals in Scripture references
Spell out Bible book names
Hyperlink each Scripture reference to Blue Letter Bible's Bible search database
The Glorious Feast is available in various electronic formats (PDF, Kindle, iBooks, etc.) for $4.99. Or, you can read the entire book for free at the Blue Letter Bible website.