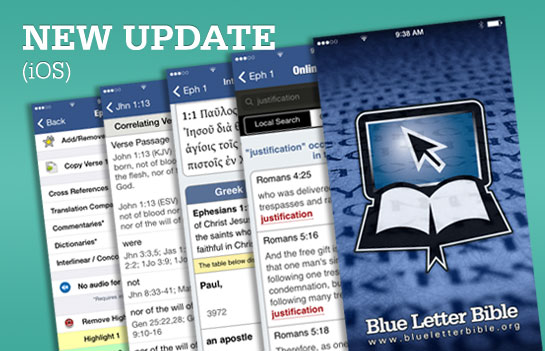 Thanks to the gift of mobile technology, Bible study is no longer contained to books or a desktop. You can read and study the Bible while waiting in line, sitting at the park, or listening in the pew—wherever you are. Blue Letter Bible's mobile app allows you to access our best study tools right in the palm of your hand.
You can dig deep into God's word with over 30 Bible versions, audio Bibles, text and audio commentaries, Hebrew / Greek lexicon, concordances, dictionaries, advanced word searches, and more. With the BLB app, you can also personalize your study with highlighting, underlining, and note taking options – all with Cloud back up.
New: Version 2.40
Over the weekend, we launched the latest update to the Blue Letter Bible iOS app (iPhone, iPad). The app is now optimized for iOS 7 and has several added improvements. Complete details on this update is below — or you can go ahead and download it immediately for free in the App Store.
What's New
What's Improved
Updated Treasury of Scripture Knowledge
Updated American Standard Version Bible
Updated Quick Start Help
Updated Verse Tap Menu to better match the BLB website
Updated Search Range to match website Advanced Search
Updated New Features screens
Updated History View
Navigation consistency: swapped 'Bibles' & 'Cancel/Group' button
Retains the Classic Features and Interface on older iOS revisions
What About Android?!
We hear your cries and feel your pain, Android users. It's been a long time coming, but our small team is working diligently around the clock to get the Android app out. In the meantime, you can use our mobile site (m.blb.org) for a small-screen version of the BLB website. We appreciate your continued support and prayers. Stay tuned!