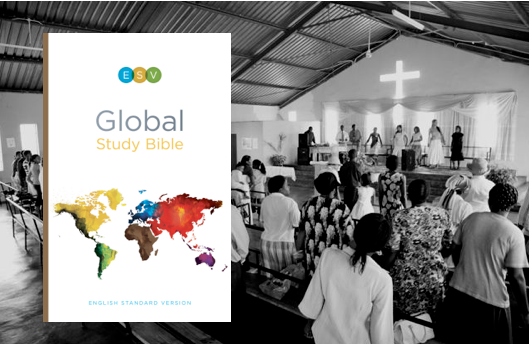 The preaching pastor has a weighty task (2 Tim 4:1-5). He is responsible for feeding Jesus' sheep with the solid food of God's Word. Needless to say, for him, good theological training and resources are a necessity.
Some pastors in hard to reach places lack these essential resources.
This is one of the reasons Blue Letter Bible exists, to provide such resources to pastors and lay people around the globe. Yet, we know that in some regions there are still limitations to Internet access. Would you consider helping TGC International Outreach send 5,000 study bibles to pastors in these areas?
The Resource: ESV Global Study Bible
From the TGC International Outreach website:
The ESV Global Study Bible is for "Global Christians" in every corner of the world—especially in places with limited resources for accessing and studying the Bible. It has been designed from beginning to end to be highly accessible for distribution on a global scale.

Each book begins with an introduction, followed by a unique, insightful description of the global message of the book. Likewise, a set of articles by global Christian leaders apply the Bible to perennial global issues, such as the role of government, the nature of the church, world religions, social ethics, and missions and evangelism.
The notes and maps were adapted from the best-selling ESV Study Bible and provide a wealth of information about the biblical text, history, and geography. With overviews of each Bible book, special facts, and character profiles, the Global Study Bible is a remarkable resource for Christians everywhere who want to know and understand the truth of the Bible and its global meaning.
To learn more  about this project and how you can join us, please visit TGC International Outreach: Theological Famine Relief for the Global Church.