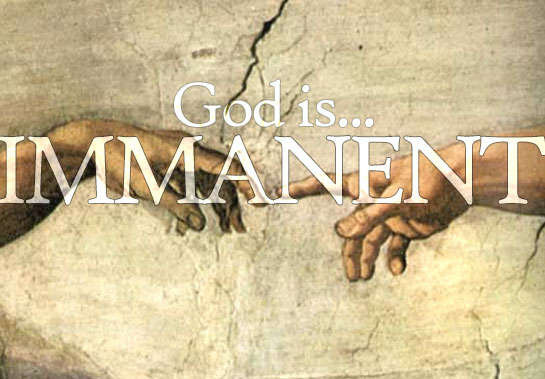 "Am I a God at hand, declares the Lord, and not a God far away? Can a man hide himself in secret places so that I cannot see him? declares the Lord. Do I not fill heaven and earth? declares the Lord."
(Jeremiah 23:23-24)
…Yet he is actually not far from each one of us, for
"'In him we live and move and have our being'…"
(Acts 17:27-28)
 Be strong, all you people of the land, declares the Lord. Work, for I am with you, declares the Lord of hosts, according to the covenant that I made with you when you came out of Egypt. My Spirit remains in your midst. Fear not.
(Haggai 2:4-5)

Not only is our God transcendent, above us in every way, but He is also immanent. In other words, He has an indwelling presence in the universe and is personally involved in its in-workings and out-workings.
Immanence describes a God who is at hand, working through the minutiae of the lives of His creation to produce a love for and enjoyment of His Word, His Gospel, and Himself. God does not sit back and merely observe a creation which he set in motion millennia ago; he is present and actively participating in His world. This gives the believer rest in the knowledge that there is no place or situation that is too far to be under God's protecting hand.
Wayne Grudem (research professor, Phoenix Seminary) explains the uniqueness of this attribute in his Systematic Theology (parenthetical notes added):
In the teaching of the Bible, God is both infinite and personal: he is infinite (transcendent) and personal (immanent): he is infinite in that he is not subject to any of the limitations of humanity, or of creation in general. He is far greater than everything he has made, far greater than anything else that exists. But he is also personal: he interacts with us as a person, and we can relate to him as persons. We can pray to him, worship him, obey him, and love him, and he can speak to us, rejoice in us, and love us.
Apart from the true religion found in the Bible, no system of religion has a God who is both infinite and personal.
Other attributes we've discussed so far:
[This post is adapted from Blue Letter Bible's Theological FAQs page.]