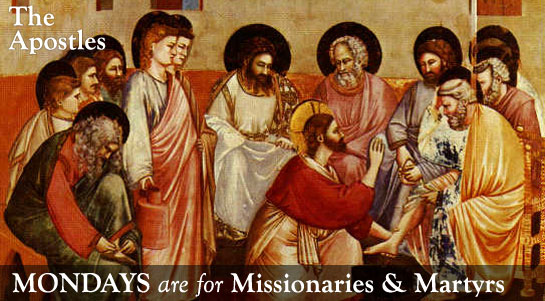 This post is part of an ongoing series, highlighting the martyrdom of the apostles, deacons, and missionaries of the first century church.
"Blessed are you when they revile and persecute you, and say all kinds of evil against you falsely for My sake. Rejoice and be exceedingly glad, for great is your reward in heaven, for so they persecuted the prophets who were before you."
Matthew 5:10-12
Stephen
Meet Stephen.
Stephen's life and death are recorded in the book of Acts. In chapter 6, he is quickly introduced only to be martyred in chapter 7. Stephen is one of the first deacons appointed by the apostles.
Now in those days, when the number of the disciples was multiplying, there arose a complaint against the Hebrews by the Hellenists, because their widows were neglected in the daily distribution. Then the twelve summoned the multitude of the disciples and said, "It is not desirable that we should leave the word of God and serve tables. Therefore, brethren, seek out from among you seven men of goodreputation, full of the Holy Spirit and wisdom, whom we may appoint over this business; but we will give ourselves continually to prayer and to the ministry of the word."

And the saying pleased the whole multitude. And they chose Stephen, a man full of faith and the Holy Spirit, and Philip, Prochorus, Nicanor, Timon, Parmenas, and Nicolas, a proselyte from Antioch, whom they set before the apostles; and when they had prayed, they laid hands on them.
(Acts 6:1-6)
Stephen's death
Stephen was soon martyred for the faithful manner in which he preached the gospel to the very men who betrayed and murdered Christ, the son of God. In madness, the hearers of his last sermon gnashed out at him, drove him out of their city, and stoned him to death.
We are inclined to believe that the time he was martyred was during the time of the passover, the following spring after Christ's ascension into heaven.
Upon Stephen's death, there arose a great persecution against all who professed there belief in Christ as the Messiah, or even as a prophet. The following passages in Acts reveal that there was a great persecution against the church at Jerusalem. It was for this reason that the church scattered throughout the regions of Judaea and Samaria. Only the apostles stayed behind.
Around two thousand Christians, including Nicanor, one of the other seven deacons, suffered martyrdom during the persecution that arose about Stephen.
God used the martyrdom of Stephen, and the consequent persecution that arose, to spread the church throughout the surrounding lands. And with them, the gospel spread.
[Stephen:]"You stiff-necked and uncircumcised in heart and ears! You always resist the Holy Spirit; as your fathers did, so do you. Which of the prophets did your fathers not persecute? And they killed those who foretold the coming of the Just One, of whom you now have become the betrayers and murderers, who have received the law by the direction of angels and have not kept it."

When they heard these things they were cut to the heart, and they gnashed at him with their teeth. But he, being full of the Holy Spirit, gazed into heaven and saw the glory of God, and Jesus standing at the right hand of God, and said, "Look! I see the heavens opened and the Son of Man standing at the right hand of God!"

Then they cried out with a loud voice, stopped their ears, and ran at him with one accord; and they cast him out of the city and stoned him. And the witnesses laid down their clothes at the feet of a young man named Saul. And they stoned Stephen as he was calling on God and saying, "Lord Jesus, receive my spirit." Then he knelt down and cried out with a loud voice, "Lord, do not charge them with this sin." And when he had said this, he fell asleep.

(Acts 7:51-60)