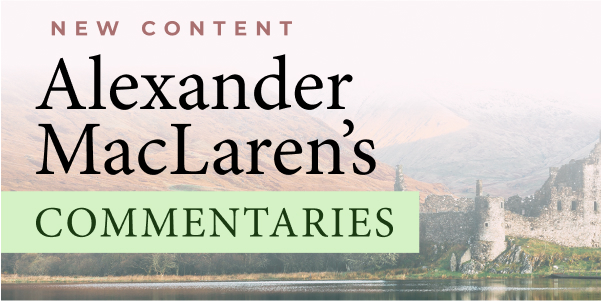 MacLaren's Classic Commentaries Now Available
Alexander MacLaren has been a revered preacher, both in his time and ours, and we are excited to bring you three of his many works on Scripture: Expositions of Holy Scripture, The Life of David Reflected in the Psalms, and his contributions to The Expositor's Bible.
Expositions of Holy Scripture
The first and largest of these works is a complete collection of sequential teaching through the books of Scripture. George Eayrs, who created a detailed index for the physical volume set of this work, marveled at the unique nature of MacLaren's writings: "A notable feature of Dr. MacLaren's expository art was the use of supplementary, complementary, or contrasting passages of Scripture as sidelights or reflections upon that which he was expounding."
The Life of David Reflected in the Psalms
This work focuses on the evolution of David's psalms over time in his different stages of life. MacLaren breaks his work into four stages of David's life: his early days, his exile during Saul's reign, his reign as king, and his sin and the consequences born from that. With this work, you will find yourself diving deep into the character and life of King David.
Contributions to The Expositor's Bible
The Expositor's Bible is a work compiled and edited by Sir William Robertson Nicholl. His goal was to display a unification amongst full-time preachers on the essentials of the Christian faith. MacLaren, a dear friend of Nicholl, contributed three volumes on Psalms and one on Colossians and Philemon, both of which we have been put up separately from his other works.
About Alexander MacLaren (1826-1910)
MacLaren was a man of great humility. Born in Glasgow, Scotland, he has been held by many to be one of the greatest expository preachers to have ever lived. Drawing in crowds second only to Spurgeon, he remained unwavering in his desire to preach the Word God had given him and not what man desired to hear. He ministered in Southampton for twelve years before moving to Manchester for another nine, and then to Australia for the remainder of his ministry. It was only after he passed in his hometown of Glasgow in 1910 that much of work was published to the great excitement and joy of the pastoral community.