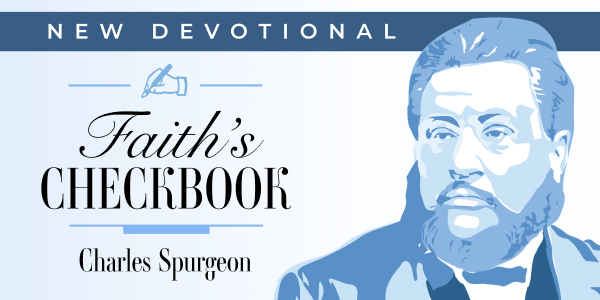 Faith's Checkbook from Charles Spurgeon
Originally published as The Chequebook of Faith in 1893, this collection of brief devotionals has been a resource beloved by many a Christian for the past century. Spurgeon's introduction to the devotional states, "God has given no promise that He will not redeem. He does not offer hope that He will not fulfill. To help my brethren believe this, I have prepared this little volume." In this "little volume," Spurgeon likens the provision of God to a bank that has an unlimited flow of grace, love, mercy, and provision for all those who are a member.

Each day, you will find a section of Scripture, followed by a brief rumination by Charles Spurgeon, who is often affectionately referred to as the "Prince of Preachers." We at BLB firmly believe that you will be blessed immensely through these devotionals, and we pray that you will soon learn that God's heavenly bank is truly infinite and cannot be overdrawn.
If you want to start reading, you can take a look at today's entry or browse this devotional's Scripture index. You can also receive this daily devotional via email if you create a free account with us. Just click the gear icon in the top right, navigate to "Manage Your Subscriptions," and choose to either receive Faith's Checkbook in plain text or HTML.