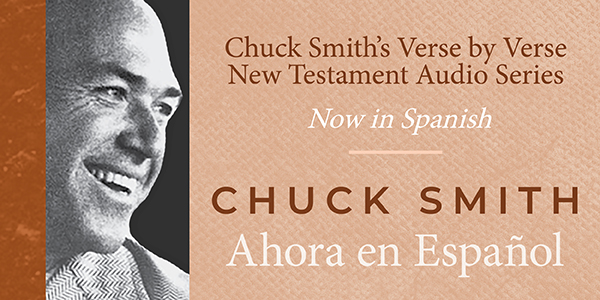 Chuck Smith's Verse by Verse Audio Series – Now in Spanish
We are so excited to present Pastor Chuck Smith's New Testament Verse by Verse audio series in Spanish! This Spanish commentary is made available through The Word for Today and translated by Trans World Radio (TWR). The Verse by Verse audio series has been one of the most popular on our site. We are blessed to have the opportunity to provide the translated version from TWR and The Word for Today.
To start listening, you can head over to Chuck's Spanish audio page. We also have compiled all of our Spanish resources onto a single page for ease of access, which will include Chuck's New Testament Spanish audio.
About Chuck Smith
Pastor Chuck Smith was best known for his expository style of preaching, as he unpacked the truths of Scripture while working his way through the entire Bible from Genesis to Revelation. These teachings are still being broadcast daily around the world on his radio program, The Word for Today. He founded and pastored Calvary Chapel Costa Mesa in the late 1960's and faithfully served there until October 3, 2013, when he entered into the eternal presence of our Lord.
---
¡Es un placer a presentar la serie de audio Versículo por versículo del Nuevo Testamento del pastor Chuck Smith en español! Este comentario en español está disponible a través de The Word for Today y traducido por Trans World Radio (TWR). La serie de audio Verse by Verse ha sido una de las más populares en nuestro sitio. Tenemos la bendicion de tener la oportunidad de proporcionar la versión traducida de TWR y The Word for Today.
Para comenzar a escuchar, puede dirigirse a la página de audio en español de Chuck. También hemos recopilado todos nuestros recursos en español en una sola página para facilitar el acceso, que incluirá el audio en español del Nuevo Testamento de Pastor Chuck.
Sobre Chuck Smith
El pastor Chuck Smith era mejor conocido por su estilo expositivo de predicación, ya que descubrió las verdades de las Escrituras mientras trabajaba en traducia toda la Biblia desde Génesis hasta Apocalipsis. Estas enseñanzas todavía se transmiten a diario en todo el mundo en su programa de radio, The Word for Today. Fundó y fue pastor de Calvary Chapel Costa Mesa a finales del siglo desde 1960 y sirvió fielmente hasta el 3 de octubre de 2013, cuando entró en la presencia eterna de nuestro Señor.