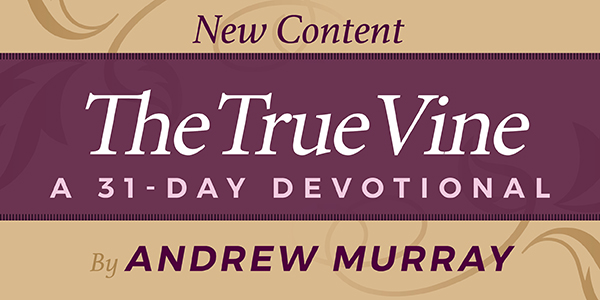 Andrew Murray's "The True Vine" 31-Day Devotional
"I have felt drawn to try to write what young Christians might easily apprehend, as a help to them to take up that position in which the Christian life must be a success." This is quote from The True Vine, a new 31-day devotional from Andrew Murray. In it, the author takes a close look at Christ's word picture of the vine in John 15, examining how young Christians should apply its words to their lives. To start reading, you can head over to the preface for a quick introduction.
About Andrew Murray
Andrew Murray was a South African missionary and minister, as well as the first president of the Young Men's Christian Fellowship (YMCA). As a preacher, he consistently drew large crowds and led many to trust Christ as their Savior. Though he endured severe illness throughout his life, he remained faithful to God's calling. By the end of his life, he had authored over 240 books, and had nine children his wife, Emma.