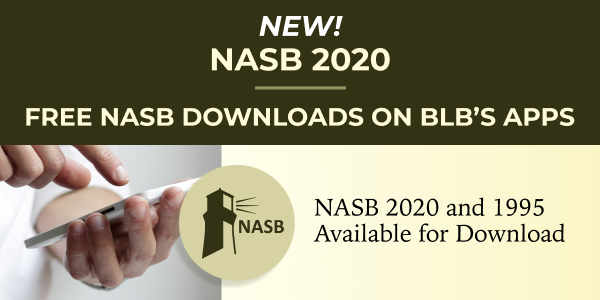 NASB 2020 Now Available on BLB
One of BLB's most popular translations, the New American Standard Bible (NASB), was updated in 2020 and is now available on BLB's website and apps as NASB20. The 1995 version is still available and is called NASB95.
To learn more about the NASB 2020, visit the "More Information About NASB 2020" article from NASB's publisher, Lockman Foundation.
---
Free Download on Apps – NASB20 and NASB95
Lockman Foundation has also graciously offered BLB users the ability to download the NASB20 and NASB95 for free on our Apple and Android apps. Learn how to download Bibles on our Apple App FAQ page or our Android App FAQ page.  We wish to thank the Lockman Foundation for their partnership and generous provision of free NASB downloads for BLB's app users.
If you have not already done so, download our free Bible study app for Apple and Android devices, and take advantage of BLB's wonderful in-depth study resources in the palm of your hand. You can download them on the App Store or the Google Play Store.