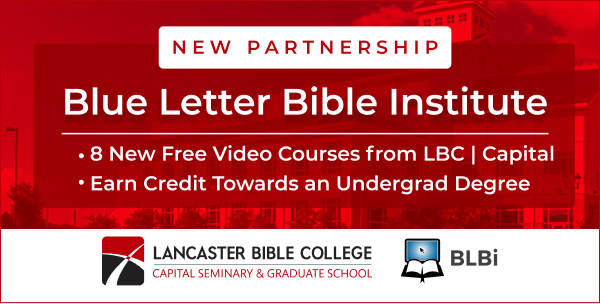 New Accreditation Partnership – Lancaster Bible College
New! 8 Video Courses from LBC | Capital
LBC | Capital has provided BLB with 8 new courses for free at the BLB Institute (BLBi) available at Study.Bible. These 8 courses can be taken individually or collectively as part of a complete Biblical Studies program.
The courses are as follows:
Old Testament I: Creation and Covenants
Old Testament II: Life and Literature of Israel
New Testament I: Life of Christ
New Testament II: Early Church
Biblical Hermeneutics
Basic Bible Doctrine
Christian Narrative I: Creation and Fall
Christian Narrative II: Redemption
Visit our Course Program page for quick access to these courses or browse our entire course library.
---
New! Added Course Delivery Features
The 8 courses offer new course delivery features to enhance your learning, including:
Video lessons
Additional reading materials
Journal assignments
Application exercises
---
New! Course Programs and Continuing Education Units
Students may take individual courses or opt to follow a recommended course of study, called course programs. Individual courses and course programs are offered at no cost to the student. We currently offer two course programs and electives, including Foundations of the Christian Faith and Foundations of Biblical Studies.
Upon completing a course program, students are eligible to receive a course program Certificate of Completion from BLB, which lists all courses completed in the program, as well as Continuing Education Units (CEU) earned. Students can track progress in their Student Dashboard.
The acceptance of this certificate by a school, church, or ministry is at the discretion of the receiving institution.