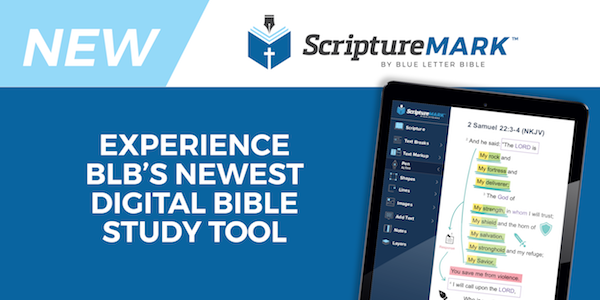 Introducing BLB's Newest Free Digital Bible Study Resource: ScriptureMark
Our motto here at Blue Letter Bible is: Study the written Word to know the Living Word. This motto really encapsulates our passion to provide you with vast Bible study resources and content. New in 2019, we are excited to announce a digital markup Bible study resource like no other.
This free resource was birthed out of a vision to help you discover the truths of God's Word by marking up selected passages of Scripture. The team imagined highlight and underline tools, arrows and shapes, sticky notes, freehand drawing, images, and more. They wanted to include indenting tools for block diagramming and layer options for customizable viewability. BLB envisioned a resource that would not only enrich your personal study, but that would be used to help others delve into the depths of Scripture.
This vision has now come into fruition through BLB's newest, free resource—ScriptureMark!

ScriptureMark helps you to slow down and appreciate the depth of truth in every verse of God's living Word, making your study:
Interactive, engaging, enlightening, and fun
Useful as a teaching aid for individuals and groups
Effective for visualizing, understanding, and memorizing God's Word
Right now, we are testing out ScriptureMark during a period of time called "beta." During this beta period, you will have access to all of the study tools and features offered. We trust that ScriptureMark will be a wonderful addition to your study. We also want our users to know that your use of ScriptureMark will help us to further refine, develop, and improve the resource. So please head over to ScriptureMark and try it out today!
Learn more about ScriptureMark at ScriptureMark.org
Study the Bible with ScriptureMark at BLB.org/SMark