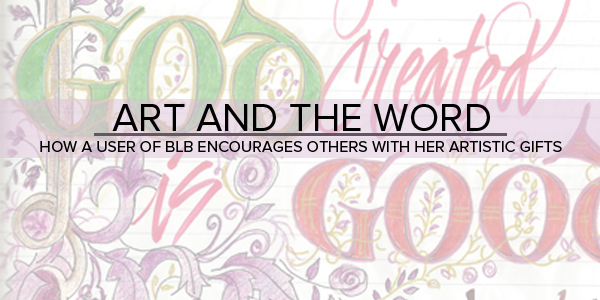 …For You have magnified Your word according to all Your name.
Psalm 138:2 (NASB)
From the very beginning of Blue Letter Bible, in 1996, Psalm 138:2 has remained our theme verse. It is all about God and His Holy Word, which proclaims the Gospel of Jesus Christ. So, we get excited when we hear from BLB users who partner with us to promote the greatness of God and His Word. Debi Cole is one of those people. God has blessed her with the gift of encouragement, which she uses in a very unique way.
Debi began studying calligraphy over thirty years ago, eventually learning from masters in the art. She would practice her calligraphy by writing out recipes, and then she turned to writing out Bible verses in her journal. When she discovered BLB a number of years ago, her journals became filled with the Word of God and the insights she was learning from using BLB. She wrote out daily devotionals from Day by Day by Grace, and gleanings from commentaries, as well as her personal prayers, and spiritual reflections. Debi told us…
I've learned so much about God's Word because of Blue Letter Bible. By taking time to write out what I'm learning in my calligraphy style, I'm able to meditate on His precious truths.
Incidentally, Debi loves to send encouraging Bible verses via "snail mail" to bless others—she even embellishes the envelopes. Her works of art can be found throughout our BLB offices. Imagine the surprise when Debi's husband, Mark, walked into a local utilities office and discovered many months of empty business envelopes that decorated this secular workplace with his wife's calligraphies from God's Word! Debi said…
I want to use the talent God has given me to bless others and I pray for every person who may see one of my envelopes. I pray God would turn hearts and minds toward Himself through this intentional witness.
We are grateful for Debi's testimony and her ministry of exalting the Lord through her beautiful gifts of encouragement. Our thanks and prayers go out to all of our partners who help BLB continue to bring God's Word to the nations of the world.