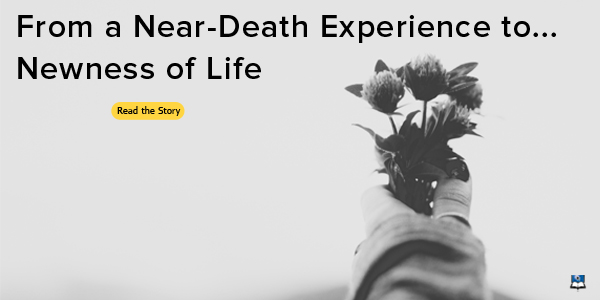 It has been said that every picture tells a story. Well, we believe when stories are centered on God and His life-changing Word, they have the makings of a Masterpiece.
We recently heard from a sweet lady named Patrice, who experienced a terrifying situation—but God used it for good. Some years ago Patrice was innocently entrapped in a life-threatening situation. Gripped with fear and in shock, she sadly had to witness the death of a co-worker. Now, reflecting back on that experience, she said:
I knew if I died that day I would not go to heaven. I needed a Savior and I called out to God. I felt the presence of the Lord surrounding me, and out of this terrifying situation came newness of life for me.
Understandably, Patrice suffered from Post-Traumatic Stress Disorder (PTSD) as a result of that trauma and she sought professional counseling. But it wasn't until she began reading the Bible that God brought healing, and she clung to 2 Timothy 1:7—"For God has not given us a spirit of fear, but of power and of love and of a sound mind."
Patrice told us Blue Letter Bible has played a big part in helping her grow in her knowledge of God. She has taken several courses on the BLB Institute (BLBi) and she was excited to discover the "Counseling God's Way" course. This curriculum takes an in-depth look at how God Himself is our "Wonderful Counselor," from Isaiah 9:6. The Truth of God's Word has the power to change lives and provide instruction for all of life's difficult circumstances. Patrice said:
Blue Letter Bible has helped nurture and water the seed that God planted in my heart. The BLB Institute has enlightened my life, taking me to another level of learning and discipleship.
Today Patrice has a song in her heart and she serves in her church as a small group leader of "3G"— God, Gifts and Guitars. She not only leads worship, but she trains others in this ministry also. In hindsight, she told us:
I believe that terrifying situation I encountered was ordained by God. He ordered my steps that day and He saved me. Now I am being equipped to help others.
Truly, Patrice's story illustrates the touch of the Master's hand. And we are honored that she shared it with us, so we could share it with all of you.
---
We love to hear from Blue Letter Bible users about how God is using BLB in your lives and ministry. How has God used BLB in your discipleship and teaching? How have you been personally ministered to through a deeper study of God's Word? If you'd like to share your story, simply fill out our online form and submit at: BlueLetterBible.org/yourstory.