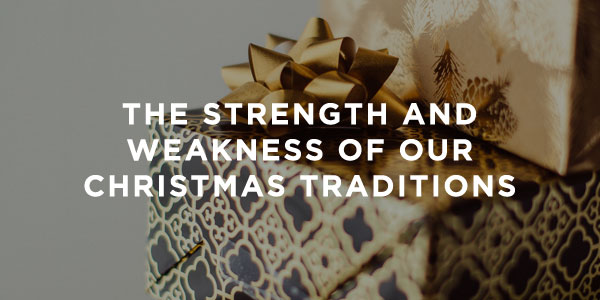 "For his sake I have suffered the loss of all things and count them as rubbish, in order that I may gain Christ and be found in him…" (Philippians 3:8)
Advent calendars, candle lightings, and Christmas caroling. Baking cookies and decorating trees. Traveling across states to see loved ones. These are our beloved holiday traditions.
Holiday traditions can be a lot of fun, but we must not forget this easy-to-miss truth:
Traditions are wonderful, but they cannot save us.
Common sense, you might say. But whenever we turn to our traditions to find our sense of "okay-ness" what we are doing is searching for justification in the wrong places, if even for a brief moment. It is searching for salvation in places we will not find it. We are all longing to be able to look at ourselves and know that we're "okay"—what the Bible calls "righteousness." However, righteousness does not come from ourselves or anything we can do.
We won't find it in getting the right present for the right person or doing the right traditions at the right time. We won't be able to find our okay-ness in beautiful traditions and events. We can only find it through faith in Jesus.
To learn more about how to behold the Christ of Christmas and enjoy our holiday traditions, listen to this newly added sermon by Elyse Fitzpatrick:
The Strength and Weakness of Our Christmas Traditions