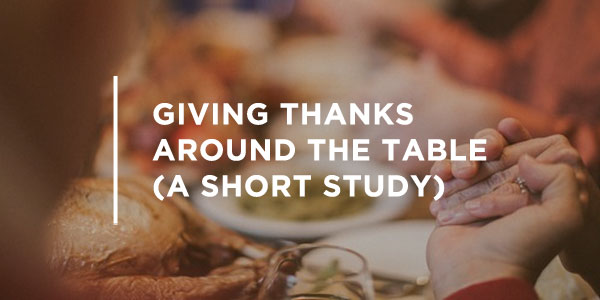 I am always thankful for Blue Letter Bible; however, this was one of those occasions where I was especially grateful for BLB's fast and powerful Word Search tool!
It was Thanksgiving morning. My wife and I just celebrated the birth of our third child, and we were learning to manage the reality of three little ones. Amidst the chaos, I had only 30 minutes to prepare my Thanksgiving devotional for the family.
My goal was to provide a guided devotional on "reasons for giving thanks in the New Testament." In the search field I added an asterisk (*) after the word "thank" in order to see results for any word that begins with "thank" (e.g., thanks, thankful, etc.). I also refined my search results to include verses from the New Testament only. Then, I copied selected verses onto my devotional document and listed the reason each passage offered for giving thanks. We went through these passages together as a family, reflecting on the study and sharing around the table.
Our family devotional was enriched by seeing God powerfully at work through His Word, which was made possible in a special way through BLB. It is a joy to serve in this ministry knowing that millions of BLB users like you are being similarly blessed. As you dig deeper into God's Word through BLB, our prayer is that you too will grow and lead others toward a more intimate knowledge of our Lord and Savior, Jesus Christ.
And in case you're interested, here is the study I put together that year:
New Testament Passages on Giving Thanks
One could really include many more passages than what I have provided, such as instances where the word or derivative of thanks is not used, but is clearly implied. However, here is a list of seven passages related to thanksgiving:
Colossians 1:12-14
…and giving joyful thanks to the Father, who has qualified you to share in the inheritance of his holy people in the kingdom of light. For he has rescued us from the dominion of darkness and brought us into the kingdom of the Son he loves, in whom we have redemption, the forgiveness of sins.
Give thanks because:
God has given us an inheritance into His kingdom
God has rescued us from the dominion of darkness
God has redeemed us through the forgiveness of our sins
Romans 6:17
But thanks be to God that, though you used to be slaves to sin, you have come to obey from your heart the pattern of teaching that has now claimed your allegiance.
Give thanks because:
We are no longer slaves to sin for God has set us free through the Gospel
1 Corinthians 15:57
But thanks be to God! He gives us the victory through our Lord Jesus Christ.
Give thanks because:
God gave us the victory over sin and death through Jesus
2 Corinthians 2:14
But thanks be to God, who always leads us as captives in Christ's triumphal procession and uses us to spread the aroma of the knowledge of him everywhere.
Give thanks because:
God leads us and uses us to spread the aroma of the knowledge of Him everywhere
2 Corinthians 8:16
Thanks be to God, who put into the heart of Titus the same concern I have for you.
Give thanks because:
God gives us compassion for others
Hebrews 12:28
Therefore, since we are receiving a kingdom that cannot be shaken, let us be thankful, and so worship God acceptably with reverence and awe
Give thanks because:
God has granted us entry into a kingdom that can never be shaken
Revelation 11:17
We give thanks to you, Lord God Almighty, the One who is and who was, because you have taken your great power and have begun to reign.
Give thanks because:
God has given us an all-powerful Savior and King who will reign for eternity