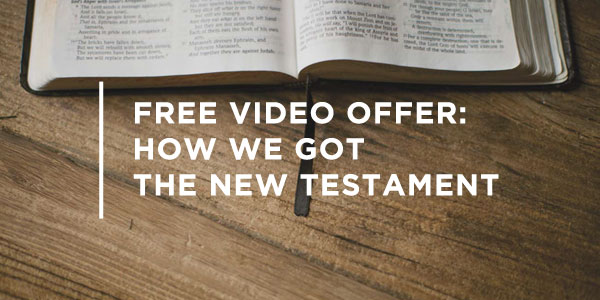 According to a nation-wide study released by the American Bible Society (2014), almost half of all Americans do not trust the accuracy of the Bible. Many wonder: Does it have errors in it? Was it tampered with? What should I say to those who question it?
Free Video Lesson from Our Friends at Rose Publishing
In these six well-produced DVD sessions, Dr. Timothy Paul Jones guides viewers through a basic history of the most incredible book in human history, answering tough questions about the Bible's reliability in an easy-to-understand way. The series is filled with stunning visuals, dramatic stories, and lots of great content, creatively telling the story of the Bible from the earliest stone tablets and first papyrus copies to the various Bible translations we use today.
Thanks to our generous friends at Rose Publishing, BLB users now have exclusive access to a 28-minute video on "How We Got the New Testament" (Session 3), available through October 8. They also have a special offer on the complete series for BLB users.
Exclusive Offer on the Complete Series
Rose Publishing offers many great resources that we know you'll enjoy. Through October 8, you can visit Rose Publishing's Blue Letter Bible page for an exclusive discount on the entire How We Got the Bible video series!
Key Features
ENGAGING—Dive into the exciting stories of Tyndale, Wycliffe, Gutenberg, the King James Bible, Dead Sea Scrolls, and more! Includes stunning visuals and supplemental video clips!
EASY-TO-UNDERSTAND—Get a solid overview on the history of the Bible and find out how to answers critics' common claims, such as: The Bible wasn't translated correctly and now has over 400,000 errors in it.
FASCINATING FACTS—Enjoy discovering fascinating facts, such as: There is more than 99% agreement between all of the known manuscripts of the Bible.
ALL-INCLUSIVE—Anyone can utilize this all-inclusive kit that features a teaching DVD, a leader guide, participant guide, PowerPoint, and more!