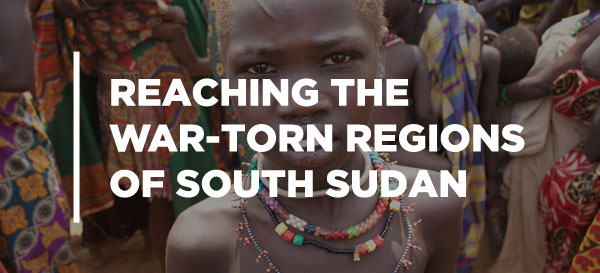 Lying in a hospital bed with doctors telling me that I was dying and there was nothing they could do, I found myself praying: "God, was it all worth it?" His answer, "Yes." Nothing is hopeless for the true believer; when all is said and done, "to live is Christ, and to die is gain" (Philippians 1:21).
These are the words of my friend, Rob Douglass, a colleague and a tremendous servant of our Lord. Over the last 15 years, Rob has led countless long-term mission efforts into some of the most remote and dangerous parts of Kenya and South Sudan. While he and his family lived in these areas, their lives were threatened by wars, tribal conflicts, and diseases.
Rob came to personally understand the Apostle Paul's meaning of "to live is Christ, and to die is gain," while he was suffering from a rare strain of malaria. God heard Rob's plea and healed him, when doctors and medicine did not. Now, more than ever, he is consumed with a passion for sharing the love of Christ with the lost. The Lord continues to enable Rob and his team to bring the Gospel to refugee camps and isolated villages.
Rob told us:
"My team and I rely heavily on Blue Letter Bible. We could not do what we do without BLB. Our relationship with you is like a marriage, we are knit together and inseparable, as senders and goers. Our ministries are connected, eternally!"
Familiar with William Carey's "rope" analogy, Rob reminded me that when Carey left for the mission field, he told his sending agency, "If you are willing to hold one end of this rope, I am willing to climb into the pit." Then Rob told us, "I believe BLB is doing something similar. It is holding the rope for millions of missionary senders and goers, and together we are impacting eternity."
How then shall they call on Him in whom they have not believed? And how shall they believe in Him of whom they have not heard? And how shall they hear without a preacher? And how shall they preach unless they are sent? As it is written: "How beautiful are the feet of those who preach the gospel of peace, who bring glad tidings of good things!" (Romans 10:14-15 NKJV)
Rob likened Blue Letter Bible to a great "sending agency" equipping senders and goers around the world. From the fields of Africa to conferences in Europe and Hong Kong, he has asked fellow missionaries how they study the Bible. Almost without fail they answered, "I use Blue Letter Bible. It has changed life for me on the mission field."
What a joy it is for us to bring you stories about the incredible ways the Lord is working through Blue Letter Bible to bring His Truth to unreached people groups around the world.
If you would like more information on how you can help us support more people with the benefits of Blue Letter Bible, click here.