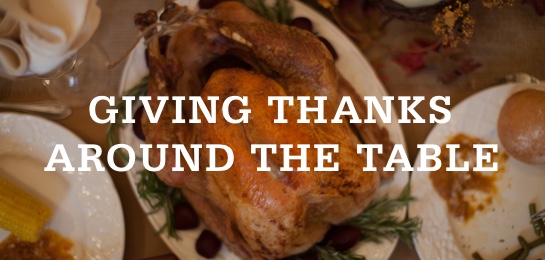 It was Thanksgiving morning, last year, and I remember the sweet-smelling aroma of turkey, stuffing, pies, and sweet potatoes. We had just celebrated the birth of our third child just two weeks prior and were newly managing the reality of parenting three little ones.
I had been reflecting on a special devotional that I was eager to prepare for my immediate and extended family during our children's coveted "two hour naptime." You would have thought I'd have learned that the "two hour naptime" is the best-case scenario with the lowest probability, particularly when you have something very important to accomplish! Sure enough, that was the case, and I ended up with about 30 minutes to prepare.
I am always thankful for the Blue Letter Bible. However, this was one of those occasions where I was especially thankful! This wonderful resource provided me the opportunity to provide the family with a deeper, biblically-based Thanksgiving devotional in the midst of "young family chaos."
I'd like to share this devotional with you. My hope is that you'd be encouraged to go deeper in God's Word through this type of study as well. Please, feel free to share this devotional with others and even incorporate it into your family devotionals.
Giving Thanks Around the Table
A typical tradition among households here is to go around the table, one by one, and share one thing in particular you are thankful for. While it is our joy to "give thanks in all circumstances," (1 Thess. 5:18) I have found that this sort of open-ended question is often focused on temporal things. Without discounting such offerings of thanksgiving, I thought I'd share a more guided devotional that focused on specific, biblical reasons for giving thanks in the New Testament.
Using Blue Letter Bible, I performed a word study on explicit statements of giving thanks. I then brought out the specific reasons for which thanks was given, and then put it all together on a sheet of paper to pass out around the table. After walking through each passage, I asked each person to respond to the following:
Which of the Scripture passage(s) most resonates with your heart of thanksgiving this year?
Share the context surrounding this aspect of thanksgiving in your heart.
Share why this aspect of thanksgiving is particularly meaningful to you today.
The time of sharing proved fruitful, which was undoubtedly God's gracious work through His unchanging Word.
New Testament Passages on Thanksgiving
One could really include many more passages than what I have provided, such as instances where the word or derivative of thanks is not used, but is clearly implied. However, here is a list of seven passages related to thanksgiving:
…and giving joyful thanks to the Father, who has qualified you to share in the inheritance of his holy people in the kingdom of light. For he has rescued us from the dominion of darkness and brought us into the kingdom of the Son he loves, in whom we have redemption, the forgiveness of sins.
Give thanks because:
God has given us an inheritance into His kingdom
God has rescued us from the dominion of darkness
God has redeemed us through the forgiveness of our sins
But thanks be to God that, though you used to be slaves to sin, you have come to obey from your heart the pattern of teaching that has now claimed your allegiance.
Give thanks because:
We are no longer slaves to sin for God has set us free through the Gospel
But thanks be to God! He gives us the victory through our Lord Jesus Christ.
Give thanks because:
God gave us the victory over sin and death through Jesus
But thanks be to God, who always leads us as captives in Christ's triumphal procession and uses us to spread the aroma of the knowledge of him everywhere.
Give thanks because:
God leads us and uses us to spread the aroma of the knowledge of Him everywhere
Thanks be to God, who put into the heart of Titus the same concern I have for you.
Give thanks because:
God gives us compassion for others
Therefore, since we are receiving a kingdom that cannot be shaken, let us be thankful, and so worship God acceptably with reverence and awe
Give thanks because:
God has granted us entry into a kingdom that can never be shaken
We give thanks to you, Lord God Almighty, the One who is and who was, because you have taken your great power and have begun to reign.
Give thanks because:
God has given us an all-powerful Savior and King who will reign for eternity