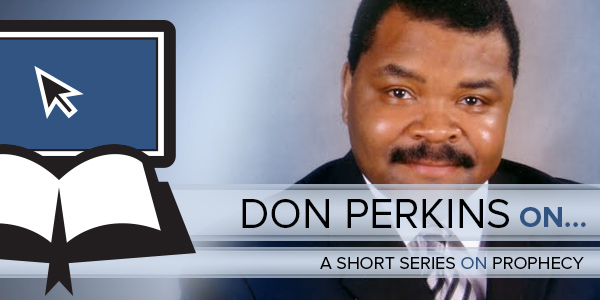 Don Perkins on Prophecy Video Series
This collection of six short video segments offers a Christ-centered, Biblical approach to understanding prophecy. In his series, Don brings a pretribulation perspective to addressing the following topics:
The Supremacy of Christ in Bible Prophecy
Interpreting Bible Prophecy
Bible Prophecy: Proving the Validity of Scripture
Israel: The Number One Sign of Bible Prophecy
Differences Between the Rapture and the Second Coming
Unbelievers and the Tribulation
Bible prophecy should always point us back to Christ. It should always focus us back to the Savior. Every part of Bible prophecy is pointing us to Christ being Lord, being King, being Ruler, forever.
—Don Perkins
You can find Don Perkins' interview HERE as well as on our media resource page with multiple other video collections.