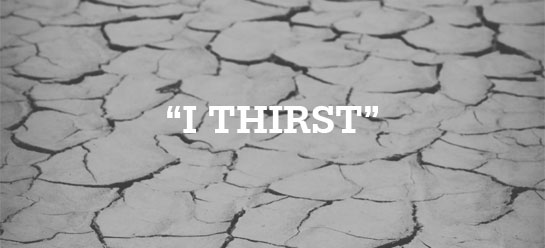 "After this, Jesus knowing that all things were now accomplished, that the scripture might be fulfilled, saith, I thirst."- Jhn 19:28 KJV

Earlier this week, someone tweeted the following:
All should read C.H.Spurgeons sermon no 1409. You can find it on blue letter bible . Org under commentaries for John 19:28

— Benjamin ratliff (@benapril1976) October 16, 2013
Benjamin makes a great point. It's a sermon worth reading. In the sermon, Spurgeon expounds upon a short phrase in John 19. It is one the cries of Jesus at Calvary: "I thirst." In this short cry, we see something of Jesus' humanity and suffering. Here is an excerpt from this sermon:
We shall by the assistance of the Holy Spirit try to regard these words of our Saviour in a five-fold light. First, we shall look upon them as THE ENSIGN OF HIS TRUE HUMANITY. Jesus said, "I thirst," and this is the complaint of a man.Our Lord is the Maker of the ocean and the waters that are above the firmament: it is his hand that stays or opens the bottles of heaven, and sendeth rain upon the evil and upon the good. "The sea is his, and he made it," and all fountains and springs are of his digging. He poureth out the streams that run among the hills, the torrents which rush adown the mountains, and the flowing rivers which enrich the plains.
One would have said, If he were thirsty he would not tell us, for all the clouds and rains would be glad to refresh his brow, and the brooks and streams would joyously flow at his feet. And yet, though he was Lord of all he had so fully taken upon himself the form of a servant and was so perfectly made in the likeness of sinful flesh, that he cried with fainting voice, "I thirst." How truly man he is; he is, indeed, "bone of our bone and flesh of our flesh," for he bears our infirmities. I invite you to meditate upon the true humanity of our Lord very reverently, and very lovingly. Jesus was proved to be really man, because he suffered the pains which belong to manhood. Angels cannot suffer thirst. A phantom, as some have called him, could not suffer in his fashion: but Jesus really suffered, not only the more refined pains of delicate and sensitive minds, but the rougher and commoner pangs of flesh and blood.Thirst is a common-place misery, such as may happen to peasants or beggars; it is a real pain, and not a thing of a fancy or a nightmare of dreamland. Thirst is no royal grief, but an evil of universal manhood; Jesus is brother to the poorest and most humble of our race. Our Lord, however, endured thirst to an extreme degree, for it was the thirst of death which was upon him, and more, it was the thirst of one whose death was not a common one, for "he tasted death for every man."
That thirst was caused, perhaps, in part by the loss of blood, and by the fever created by the irritation caused by his four grievous wounds. The nails were fastened in the most sensitive parts of the body, and the wounds were widened as the weight of his body dragged the nails through his blessed flesh, and tore his tender nerves. The extreme tension produced a burning feverishness. It was pain that dried his mouth and made it like an oven, till he declared, in the language of the twenty-second psalm, "My tongue cleaveth to my jaws." It was a thirst such as none of us have ever known, for not yet has the death dew condensed upon our brows. We shall perhaps know it in our measure in our dying hour, but not yet, nor ever so terribly as he did. Our Lord felt that grievous drought of dissolution by which all moisture seems dried up, and the flesh returns to the dust of death: this those know who have commenced to tread the valley of the shadow of death. Jesus, being a man, escaped none of the ills which are allotted to man in death. He is indeed "Immanuel, God with us" everywhere.
Believing this, let us tenderly feel how very near akin to us our Lord Jesus has become.
You have been ill, and you have been parched with fever as he was, and then you too have gasped out "I thirst." Your path runs hard by that of your Master. He said, "I thirst," in order that one might bring him drink, even as you have wished to have a cooling draught handed to you when you could not help yourself. Can you help feeling how very near Jesus is to us when his lips must be moistened with a sponge, and he must be so dependent upon others as to ask drink from their hand? Next time your fevered lips murmur "I am very thirsty," you may say to yourself, "Those are sacred words, for my Lord spake in that fashion." The words, "I thirst," are a common voice in death chambers. We can never forget the painful scenes of which we have been witness, when we have watched the dissolving of the human frame. Some of those whom we loved very dearly we have seen quite unable to help themselves; the death sweat has been upon them, and this has been one of the marks of their approaching dissolution, that they have been parched with thirst, and could only mutter between their half-closed lips, "Give me to drink." Ah, beloved, our Lord was so truly man that all our griefs remind us of him: the next time we are thirsty we may gaze upon him; and whenever we see a friend faint and thirsting while dying we may behold our Lord dimly, but truly, mirrored in his members. How near akin the thirsty Saviour is to us; let us love him more and more.
How great the love which led him to such a condescension as this!
Do not let us forget the infinite distance between the Lord of glory on his throne and the Crucified dried up with thirst. A river of the water of life, pure as crystal, proceedeth to-day out of the throne of God and of the Lamb, and yet once he condescended to say, "I thirst," before his angelic guards, they would surely have emulated the courage of the men of David when they cut their way to the well of Bethlehem that was within the gate, and drew water in jeopardy of their lives. Who among us would not willingly pour out his soul unto death if he might but give refreshment to the Lord? And yet he placed himself for our sakes into a position of shame and suffering where none would wait upon him, but when he cried, "I thirst," they gave him vinegar to drink. Glorious stoop of our exalted Head! O Lord Jesus, we love thee and we worship thee! We would fain lift thy name on high in grateful remembrance of the depths to which thou didst descend!
While thus we admire his condescension let our thoughts also turn with delight to his sure sympathy: for if Jesus said, "I thirst," then he knows all our frailties and woes. The next time we are in pain or are suffering depression of spirit we will remember that our Lord understands it all, for he has had practical, personal experience of it. Neither in torture of body nor in sadness of heart are we deserted by our Lord; his line is parallel with ours. The arrow which has lately pierced thee, my brother, was first stained with his blood. The cup of which thou art made to drink, though it be very bitter, bears the mark of his lips about its brim. He hath traversed the mournful way before thee, and every footprint thou leavest in the sodden soil is stamped side by side with his footmarks. Let the sympathy of Christ, then, be fully believed in and deeply appreciated, since he said, "I thirst."
{14 Comments}