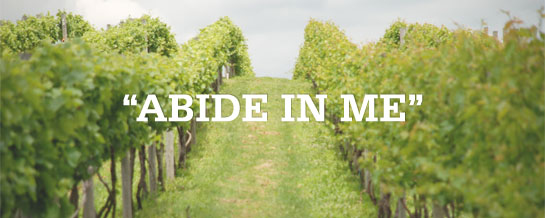 The following is adapted from the works of Andrew Murray. Find more commentaries and studies from Andrew Murray at the Blue Letter Bible.
---
"Abide in Me, and I in you. As the branch cannot bear fruit of itself, unless it abides in the vine, neither can you, unless you abide in Me."
—John 15:4
The life of the branch is a life of close communion.
What has the branch to do?
You know that precious, inexhaustible word that Christ used: Abide. Your life is to be an abiding life.
How is the abiding to be? It is to be just like the branch in the vine, abiding every minute of the day. There are the branches, in close communion, in unbroken communion, with the vine, from January to December. And cannot I live every day—it is to me an almost terrible thing that we should ask the question—cannot I live in abiding communion with the heavenly Vine?
You say: "But I am so much occupied with other things."
You may have ten hours hard work daily, during which your brain has to be occupied with temporal things; God orders it so. But the abiding work is the work of the heart, not of the brain, the work of the heart clinging to and resting in Jesus, a work in which the Holy Spirit links us to Christ Jesus. Oh, do believe that deeper down than the brain, deep down in the inner life, you can abide in Christ, so that every moment you are free the consciousness will Come:
"Blessed Jesus, I am still in Thee."
If you will learn for a time to put aside other work and to get into this abiding contract with the heavenly Vine, you will find that fruit will come.
What is the application to our life of this abiding communion? What does it mean?
It means close fellowship with Christ in secret prayer. I am sure there are Christians who do long for the higher fife, and who sometimes have got a great blessing, and have at times found a great inflow of heavenly joy and a great outflow of heavenly gladness; and yet after a time it has passed away. They have not understood that close personal actual communion with Christ is an absolute necessity for daily life. Take time to be alone with Christ. Nothing in Heaven or earth can free you from the necessity for that, if you are to be happy and holy Christians.
Oh! how many Christians look upon it as a burden and a tax, and a duty, and a difficulty to be often alone with God! That is the great hindrance to our Christian life everywhere. We need more quiet fellowship with God, and I tell you in the name of the heavenly Vine that you cannot be healthy branches, branches into which the heavenly sap can flow, unless you take plenty of time for communion with God. If you are not willing to sacrifice time to get alone with Him, and to give Him time every day to work in you, and to keep up the link of connection between you and Himself, He cannot give you that blessing of His unbroken fellowship. Jesus Christ asks you to live in close communion with Him. Let every heart say: "O, Christ, it is this I long for, it is this I choose." And He will gladly give it to you.
{28 Comments}